Look how happy our baby is with his new little bike: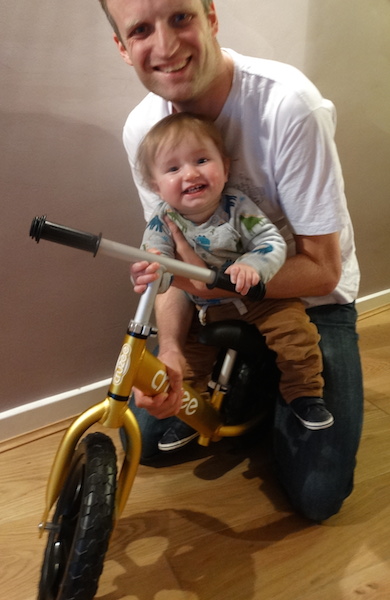 It arrived in a box yesterday along with a letter from Chain Reaction Cycles: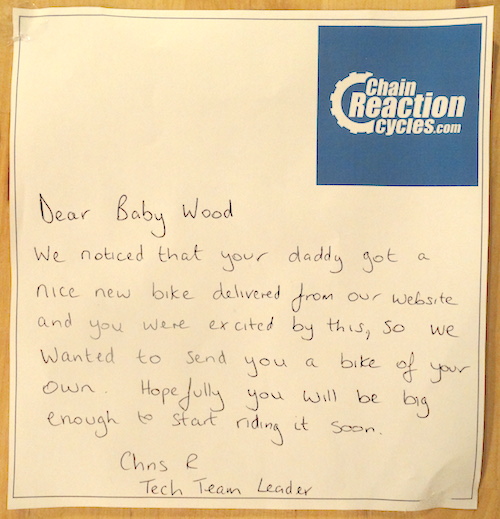 "Dear Baby Wood,
We noticed that your daddy got a nice new bike delivered from our website and you were excited by this, so we wanted to send you a bike of your own. Hopefully you will be big enough to start riding it soon.
Chris R – Tech Team Leader"
How lovely!
They did all of this in response to a tweet I had sent a few days earlier, which was proving rather popular: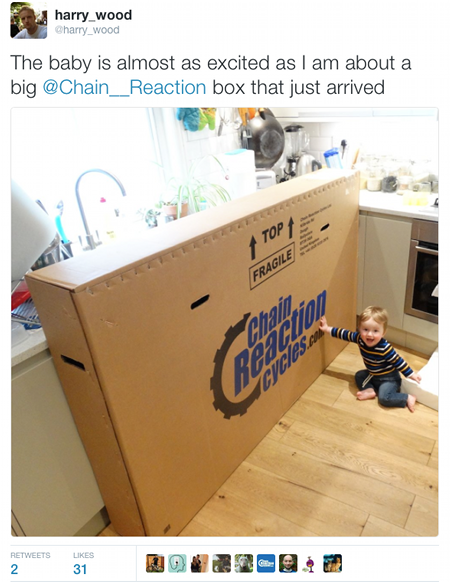 So that was some good tweeting!
31 "likes" on twitter (so far). That's after Chain Reaction retweeted it. It seems like the likes came from random customers and cycle fans up and down the country. 31 likes seems to be well above average for @Chain__Reaction's twitter stream, and 31 likes is very good going by my standards. My best performing tweet ever in fact! So much for my years of tweeting witty and insightful commentary on tech and maps and things. They all just got beaten by a picture of my baby!
Anyway, what a great surprise to receive! It was addressed to "Baby Wood" which caused some amusement when the courier showed up. I didn't open it at first in case my wife was planning some sort of surprise I wasn't supposed to know about. But no! It was a surprise from Chain Reaction Cycles.
As you can see, the baby can be balanced upon the saddle just about, but he'll need to grow a bit before riding it properly. …Or maybe I should get him training early. See if he can learn to cycle before he learns to walk!