[This was originally a top level harrywood.co.uk website section, written approximately 2007. Moved to the blog archive]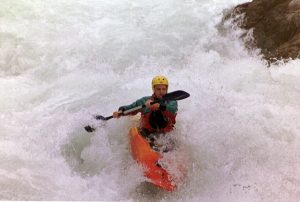 Whitewater kayaking is a big hobby of mine. I have been kayaking fairly regularly for the past five years. This is thanks to the good people at Imperial College Canoe Club who lent me the necessary equipment, taught me the necessary skills, drove me to the necessary rivers, and fed me the necessary beer/chilli fuel. It always impresses me that this group of people can collectively organise the club and the trips, coping with complex logistics and unforseen circumstances, maintaining a culture of sensible attitudes towards whitewater saftey, and at the same time have a whole lot of fun.
I've also been whitewater kayaking with Kanu Club Limmat while I was working in Switzlerland. I went along to the local club in Baden, not really knowing what to expect. Happily I met a friendly bunch of Swiss kayakers. They were older than me, with big moustaches and families and such things. I had a lot of fun with them though. We did some hardcore alpine whitewater on a couple of weekend trips, and what's more, it turned out the local river Limmat had some interesting playspots, including a wave which can get very big. I took a trashing on it, during my final run, and returned to London in shame.