I recently had to get some UK passport photos printed for my baby. This has extra fun issues, like getting him to look at the camera, and not having a hand visibly holding him. But even for adult passport photos…  I have a nice camera. It feels like paying a £5 for a photo booth is wrong. So I have used the following approach …because I'm cheap like that.
At boots you can print a single photo for 39 pence, and a single photo is big enough to fit eight little UK passport photos within it. Bargain! We just need to prepare a picture like this to print: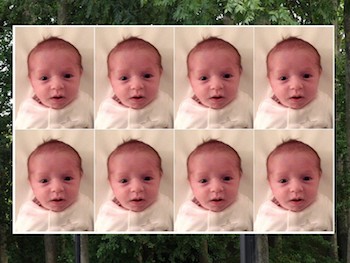 (There's our little lad!)
The trick is to get the pixel ratios right. The other trick was to realise that boots photo machines crop photos a little bit at the edges, and they actually automatically crop more if you give them an image with a lot of blankness, hence the decorative leafy border on this image to prevent this. This skinflint Yorkshireman has done the trial and error so you don't have to!
Passport photos template image <<< (right click 'save as')
So you might make use of this file as a template, and edit it to put your own passport photo image, but you'll have to do some clever resizing and cropping and positioning using image editing software. The overall photo file here is 3264 x 2448 pixels. Your mugshot photo image will need to be sized 738 x 949 pixels, but don't forget there's rules for how big the head should be within a passport photo. So this means within that image you need the head to be ~660 pixels tall. In fact it's easiest to take that as the starting point.
So the steps are:
Take your photo
Make a copy of the file
Resize it so that the head is 660px tall
Crop it to frame the picture nicely and to exactly 738 x 949 pixels
Save that
Open the template image and copy your image onto it
repeat for all 8 positions
Finally put that image on a USB key/SD card and take it to boots. When you come to print, select "6×4 From: £0.39"
And there you have it… 8 passport photos for 39 pence!