I made a little counting quiz game for my 3 year old to practice his counting:
>>> Counting game <<<
I'm hoping some other kids at the "learning to count" stage might find this fun. Just click the link to play (not on a phone)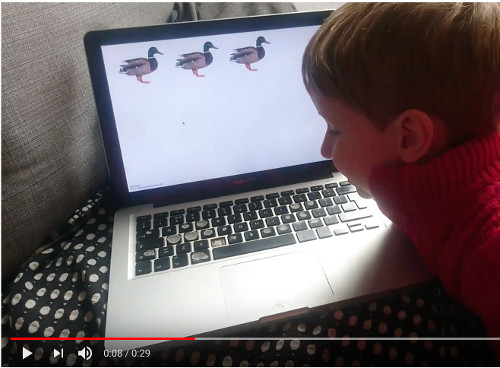 Little video of him playing it
When we talk about "learning to count", there's actually a couple of quite different skills. Speaking the numbers out loud in sequence "One… two… three" … our lad has been good at this for over a year now, but recently I've been trying to get him to look at a set of objects and tell me how many there are. Not the same kind of "learning to count".
So far he's quite bad at this. It seems like one type of counting skill should help with the other, but sometimes I'll point and say "how many?" and he'll just wave his finger at the objects while counting to ten very quickly. Almost like he's too good at the other skill, he's not getting the idea of counting objects!
Naturally my solution to these things is to spend hours coding something. Here it is on github. It needs a bit more work. In particular this is no use at all on mobile at the moment (or tablet). You need a keyboard to press the number keys. This and a few other issues listed here.
Oh and thanks to various people for the open licensed images (credited on page), and thanks to wikimedia commons for helpfully naming them "x white backgound".
If you missed it, check out my previous kids game Keyboard Letters (+previous blog post)