I went to Open Data Camp 7 last weekend.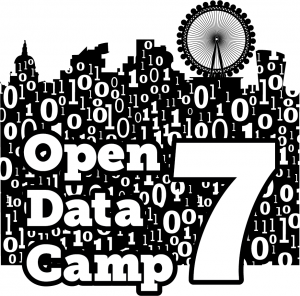 It's an event I've been hoping to get along to for years now. Always lots of interesting looking twitter chat coming out of it. But this year it happened in London, and I managed to be on the ball getting a (free) ticket before they sold out.
I hadn't particularly realised it's the "unconference" format. It reminded me of the London "wherecamp" events I was involved in once upon time, although OpenDataCamp is even more unconferency. I mean the sessions were all very conversational. Didn't see anyone with prepared slides, and often heard less from the session leader than from other people chiming in.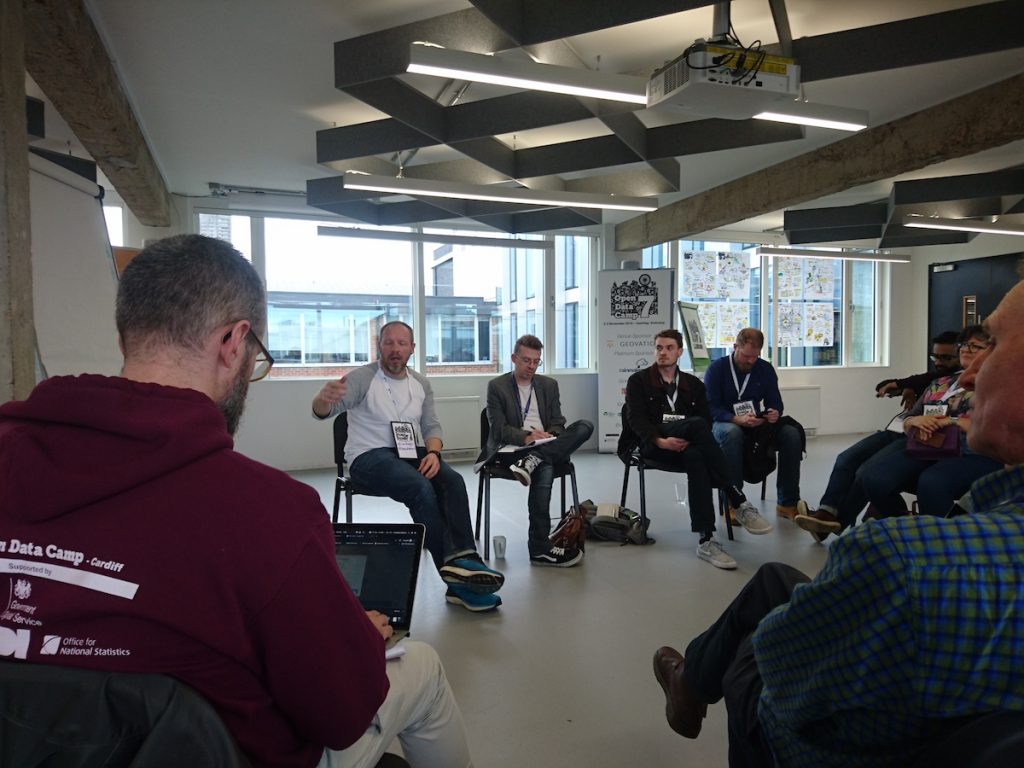 It was also different from wherecamp because there was a "pitching" session at the beginning to establish all the ideas. Those were then written up as a very busy schedule with four/five parallel tracks! Here's all the sessions listed. In fact that has links on to more notes on each of the sessions too. Here's the session choices I made:
"Bad data" – Discussing the precision of library visitor stats. I gave the example of bad data in company registries!
"Quantifying value of open data" – How to measure/justify the value of open data by tracking usage. The great unsolvable problem.
"Sorting out configuration so we can do cool things" – Really boiling down to: software can be hard to install and get working. Another great unsolvable problem.
"SPARQL 101" – A very quick intro to linked data querying. SPARQL playground and epimorphics qlassroom.
"What is non-commercial?" – Or does non-commercial really count as Open Data, or what other ways are there to avoid giving away all your value? As applied to the NHS!
"Open Procurement data for less carbon" – Influencing contract and procurement processes to (be more open and) reduce carbon emissions
"Joy Diversion" – An Open Data Manchester idea which I was always curious about. Walk round the block looking out for joyful serdipidousness. Quite fun. Quite similar to OpenStreetMap mapping (not as good!)
"OpenStreetMap" – My Session! I tried to introduce OpenStreetMap editing and using. Mentioning tags quickly led to questions and conversational diversions (as documented in the session notes) That made for an interesting different way of presenting it!
"Learning from our data mistakes / Open data horror stories" – People confessing failed attempts to open data, or opening data leading to other problems.
Some of the discussions gave me a strong sense of deja vu. We're still collectively bashing our head against some problems of open data which feel unsolvable (not that I didn't enjoy discussing them anyway!).
I also enjoyed bringing some OpenStreetMap (hobby) and OpenCorporates (day job) perspectives to discussions. I just realised I have over a decade of open data experience in both hobby/volunteering with OpenStreetMap and in my career spanning CloudMade, TransportAPI and OpenCorporates now, but I don't always think of these things in abstract open data terms. My overriding impression of Open Data Camp was an enjoyable feeling of being among open data people again!